The Great Holiday History of the Jay Mark Group
Published
---
To say the holidays are a big deal here at the Jay Mark Group would be an understatement. From the spirit around our office this time of year to the spirits at our annual party, we enjoy the holidays and celebrate them with friends and family.
One of the biggest traditions at the Jay Mark Group is our annual holiday card. We recently revisited some of our past memories, and we wanted to share those with you here.
The History of the Jay Mark Holiday Card
The Jay Mark Group was incorporated over 32 years ago. The founding partners were Jim Van der Vort, along with Mark Wade and Jim Heffernan. Jim Van der Vort had been a long-time representative in the Chicago foodservice market with his own firm, J.L. Van der Vort & Associates. Jim knew how to build relationships, work with customers, and above all else, set his firm apart from the rest. So when it came to Jay Mark's first holiday card, he knew exactly what we had to do.

For years J.L. Van der Vort & Associates had been known for their quirky and funny holiday cards involving their staff and whoever else might be hanging around at the time. Jim suggested that we do the same with Jay Mark's holiday card, and thus the tradition began during the holiday season of 1990.

Jay Mark's first holiday card was, of course, titled "The New Kids on the Block." We all dressed up in clothes from our youths and had the picture taken at a McDonald's Playland. Over the years, the holiday card themes have ranged from a cross-dressing Dorothy from Oz, the Sopranos, and Dancing with the Stars. We also like to replicate current events like Y2K, the elections, and of course, our local sports teams, Steve Bartman to the White Sox Championship.

All in all, though, our intent is just to have fun with it. Some years the card's a hit, others not so much, and our card critics let us know. The best part, though, is walking into one of our customer locations and seeing our card hanging up all year-round. We believe the card gives our customers a connection to our hard-working inside staff whom they talk to daily but may have never met in person. The card puts a face and a little of the personality to the voice that has helped them all those years.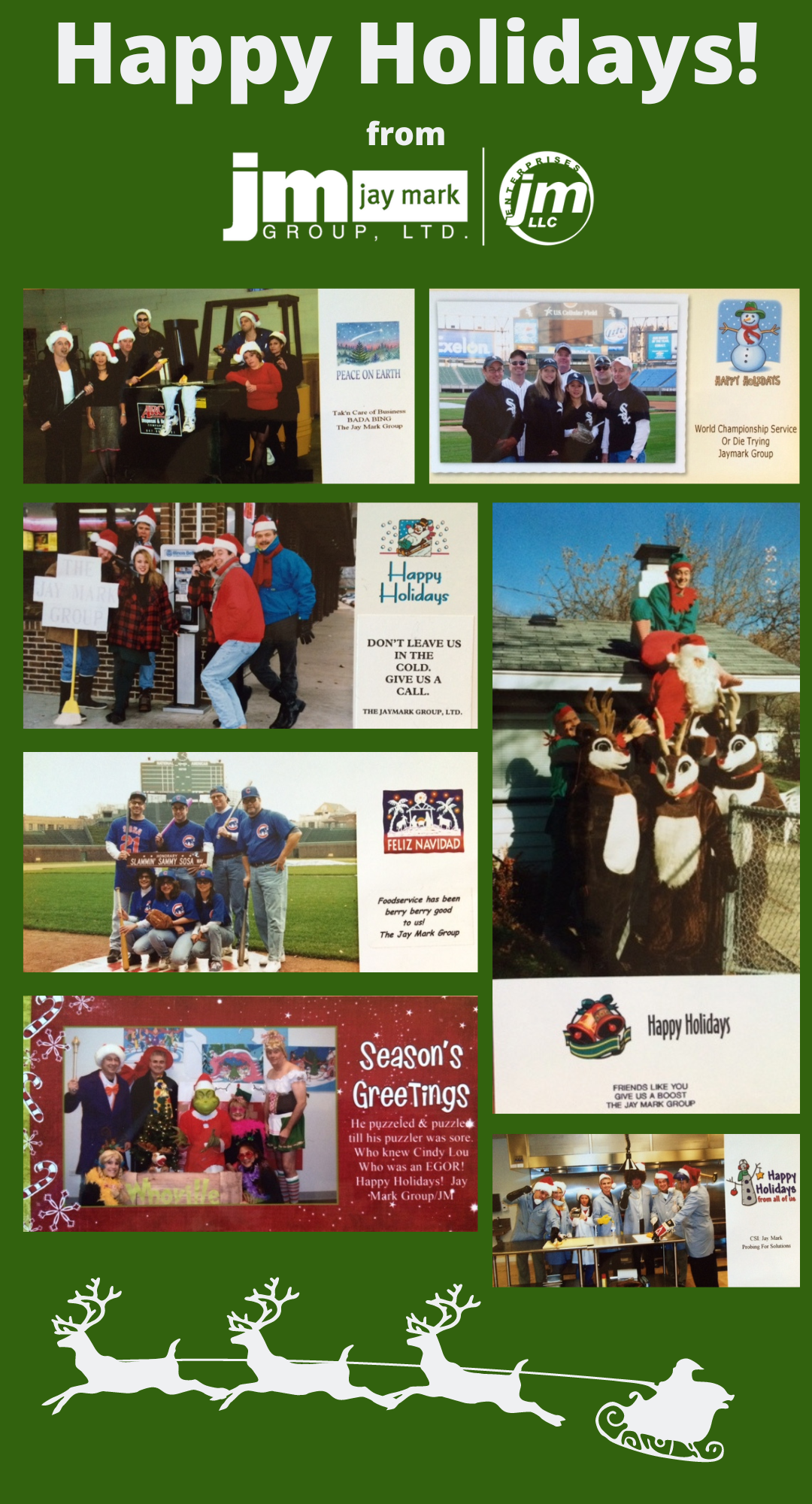 Jay Mark Group Holiday Favorites
What's your favorite holiday tradition involving food? We asked around our office, and here's the definitive Jay Mark Group list of favorite sides and dishes during the holiday season.
- Mary Ann: My daughter's homemade cranberry sauce
- Mary Beth: Fondue on Christmas Eve
-Christian: Traditional stuffing
-Janet & Joe: Mashed potatoes (with lots of butter, ha!)
- Ron: My homemade bacon mac n' cheese
- Tom: Smoked prime rib for Christmas
- Jim, Dave & Mikki: Sweet potatoes with marshmallows
-John: My wife's 7-layer Jello
-Jake: My aunt's cheesy broccoli casserole
So beyond the sides, how does Jay Mark Group celebrate the holidays? To be honest, we can't get beyond the food. We always have a holiday staff party and cook up a storm. This is where having a few chefs on staff pays off. This year, we're doing an off-site party and have decided to mix in some bowling.
We're also tying in a big thank you to all our customers, dealers, and consultant partners in the Chicago foodservice scene. We're having a big pizza party of sorts, and we hope this new tradition will continue into the future. After all, who doesn't love pizza during the holidays?
Please join us for the Jay Mark Group Holiday Jam Session featuring... Pizza!