The Next Big Thing: Innovative Concepts from NRA 2023 Show
Published
---
How do you connect with millions of people working in foodservice? One answer is actively joining the National Restaurant Association (NRA) community. The NRA is pivotal in supporting restaurants nationwide to ensure success, highlight innovation, and foster sustainability in the commercial cooking landscape.
The History of The National Restaurant Association Show
Today and since its inception in 1919, the NRA has dedicated impactful time and work to bringing education and advanced culinary innovations to nine million people in the food and beverage marketplace.
The NRA represents a vast and diverse group of commercial foodservice businesses such as full-service restaurants, QSRs, coffee shops, food trucks, and just about every other type of foodservice operation. National Restaurant Association members increase market share through advocacy, industry representation, and collaboration at the conference.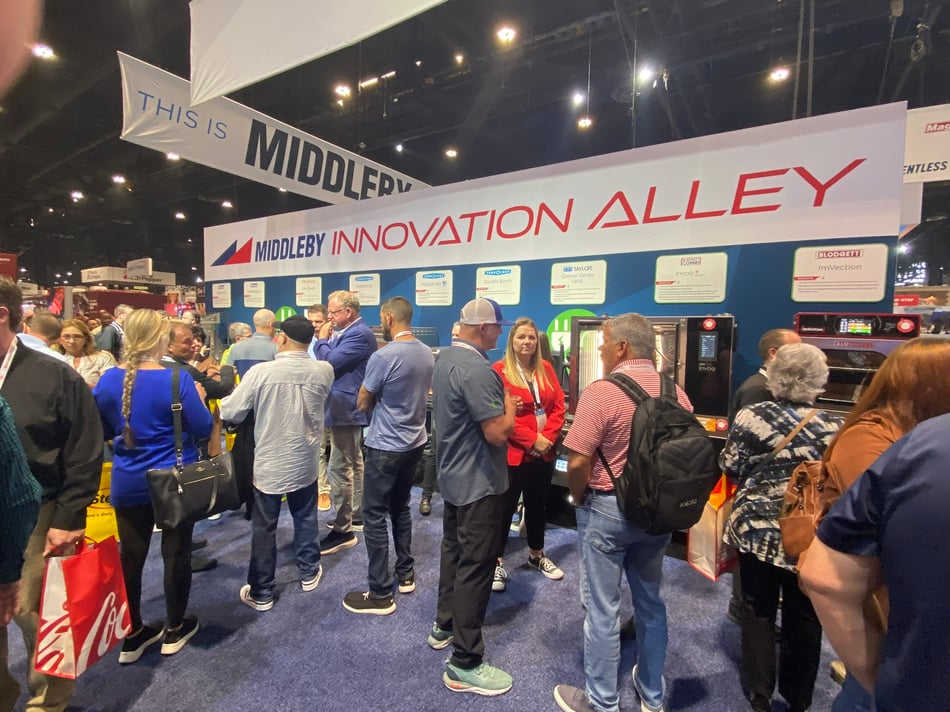 In the U.S., foodservice manufacturers, dealers, equipment representatives, business owners, and end users can overcome challenges and shape public food and beverage policies. In addition, the association offers a wide variety of culinary tools and information and educational programs for improving operational efficiencies, profitability, and overall brand recognition.
At its core, the association serves as a unified voice for the restaurant industry, and every year culinary experts, corporate chefs, restaurant owners, chains, and school and hospital foodservice operators gather in Chicago for the annual National Restaurant Association show.
This past May, the 2023 show at McCormick Place attracted over 50,000 food and beverage attendees and exhibitors representing 107 countries. Registration grew eight percent compared to the 2022 conference, and international attendees represented 15 percent of the overall group.
International foodservice attendees joined from Asian countries, with many professionals from Japan, Taiwan, and the Philippines. The record-breaking presence of global food and beverage colleagues is due to the NRA's strong partnerships with the U.S. Department of Commerce and the National Association of State Departments of Agriculture.
Not only was there an increased number of speakers, sponsors, and attendees, exhibition space exceeded 660,000 square feet.
Top Trends at NRA 2023
We experienced a lot this year at NRA, but at the top of the list, after seeing old friends, are the top foodservice trends that were highlighted. Keeping up with what's going on in the world of food is important so that we can share with our customers. Here are some things that are getting people talking:
Automation
Some people hear the word 'automation' and get nervous or confused. But when we hear 'automation' we think of labor savings and additional profits. That's because automation can cover so many facets of a commercial kitchen.
From ventless automated ovens that open once the food is finished cooking to fryers that minimize staffing requirements and fit on a countertop, automation can help especially as more people are coming into the industry without experience. By having pre-set recipes input into ovens so menu items come out the same no matter who is working and dough molders that make loaves the same size every time, it not only allows staff to focus on other tasks but also saves on food waste that can occur from human error.
Beverages
We headed to the area called The Beverage Room to find out what was going on this year with the bar world. There were so many options to see and companies to learn from. Getting customers served quickly and correctly is always a top trend, one which will also increase profits. Using the L2F SkyFlo liquor management system allows operators to monitor pours and inventory in real-time - helping to save up businesses to 30 percent while increasing service by up to 40 percent.
In other areas of beverage, coffee is still a top choice at all hours of the day. Middleby Corporation offers solutions for every level of service. With the Marco POUR'D Beverage System, cold brews are served quickly with the touch of a button and coffee concentrate. Concordia Automatic Coffee Machines work in c-stores, hotels, cafes, schools, and offices and can be controlled by staff or made into self-service stations for customers. And for an authentic Italian espresso experience, Synesso Commercial Espresso Machines allow baristas to create precision pulls of espresso.
Integrations and Smart Equipment
A trend we are hearing more and more about is the Internet of Things (IoT). Tying together multiple units, including kitchen equipment, monitoring systems for refrigeration, and electricity, IoT allows operators and managers to oversee what's happening within an establishment from anywhere they have access to WiFi. With Powerhouse Dynamics Open Kitchen, it's possible to connect thousands of pieces of commercial kitchen equipment to improve performance, reduce labor and improve utility costs.
Stay ahead of trends, optimize efficiencies, and stop needless spending. Contact our team to see how these solutions can widen your profit margins.